Congrats Jake Newman on playing in the Minnesota High School All Star Game!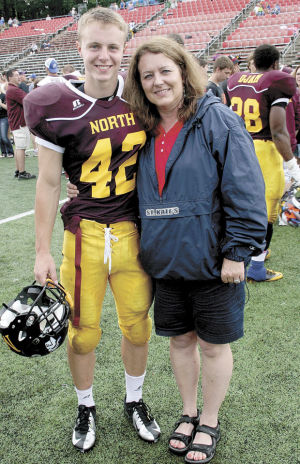 2014 White Bear Lake Football Preview
Register for Summer Weights Now!
Summer Calendar and Important Dates Posted
Check the calendar tab to get a full summer calendar.  Some dates are tenative and can change between now and then.  If you have questions contact coach Bartlett
2014 White Bear Lake Football Important Dates
May 21st: Incoming 10th-12th grade player/parent meeting 6:30PM @ South Campus Theater
June 2-4th: Equipment Issue after school @ South Campus for incoming 10-12th graders
June 9th:  First day of summer weight training @ South Campus for all incoming football players
June 16th: First 7 on 7 at Irondale High School for 10-12th graders. Every Monday at Irondale for the rest of summer
June 26th: 7 on 7 at Edina High School.  Varsity only
June 27th-July 6th: No Football or Weights.  Go on vacation and relax!
July 10th: 7 on 7 at Edina High School. Varsity only
July 24th: 10th and Varsity practice at Chaska High School
July 28-29th: Youth Camp @ South Campus.  Incoming 9th will be participating.  Flyer is on the left hand side of the website
July 30th: Mandatory fall sports meeting district center 7PM. Players and parents should be present.  Contact Tim Hermann with questions.
August 11th: First day of football.  Midnight madness for varsity
August 20th: Football pictures and preview/potluck night for all players @ South Campus.
August 22nd: 9th grade scrimmage @ White Bear Lake South Campus
August 23rd: 10th grade/Varsity scrimmage @ Centennial High School
Congrats to Jake Newman and Noah Lee for signing with Minnesota Crookston!  We are very proud of you.  Good luck! 
The 2014 football schedules are now posted.  We are very excited to have another competitive Suburban East schedule.  GO BEARS!